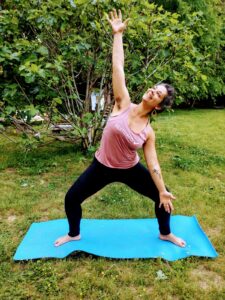 posted by Li-Lan Hui-Chun L.Ac.and inspired by Natasha's Virgo season email
September is the month of Virgo, a grounded Earth sign but one that could be too preoccupied with minute details; Virgo rules the Sixth House, the house of daily routines.  It is no coincidence that Natasha McCurley, who offers Movement, posture, and pelvic floor exercises as has in person sessions at Armonia Health on Sundays, offered some tips to help us stay accountable and motivated to our movement goals.
Here is what works for her and what she shared with her email list:
Have y'all been successful at meeting your intentions with strength training this month?  If you are like me and struggle to be consistent or create this habit here are a few things that have been working for me:  
1. Figure out in advance exactly what exercises you are doing for each workout so that you don't have to think about what you are doing.  That is why strength club is so cool!  When it's time to workout, either watch the recording or write down the moves in advance just do those.    
2. Include your strength training sessions in your calendar.  For me, I schedule Mon-Wed-Fri  and if I really, really don't want to do it or can't for whatever reason on one of those days, I can push it to the next day, which I did a couple of times over the last few weeks.  
3. Set an alarm for half an hour before your training sesh so that you can transition, finish whatever you are doing, eat a snack and drink water, get to your workout space, whatever transitioning means.  
4. Have a space that is always clear and weights accessible. It is important for me to eliminate barriers to working out so in my tiny house there is a small space that is (almost) always clear (of legos and other sh*t
), and my weights are close by.
5. If I don't feel like working out, I do it anyway, and if I still want to quit before finishing what I have planned, then I quit 🙂
---
What works for you?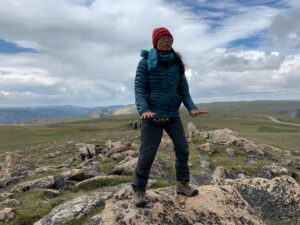 Li-Lan's sixth house is in Gemini, an Air sign that is fun and lighthearted, but can quickly change to serious.   For years, Li-Lan puzzled over why she couldn't dedicate herself to the same movement routine on a regular basis, even though Tai Chi, Qi Gong, and dance of some sort have been part of her life since teenage years.  It took until her 30s that she finally accepted that she does not have regular movement routine, but it can be consistent anywhere from one week, to six months, to a year tops.  She has never been one to be motivated to go movement classes on a consistent basis or to a gym either.  She has always moved in ways that feel good to her, which the East Asian movement arts have always satisfied that, and she has also learned that the best form of movement for her body is one of ease and one she can do anywhere, without the need for props or a mat.  She has also noticed over the years that when she pushes her body too abruptly, it tends to tighten up or get hurt (Crossfit? No way!)
So now that she is in her mid-40s, movement for sure becomes more important, as the stiffness becomes more obvious and aches and pains are more obvious.  Her hormones are also changing and she notices the loss of muscle build, she now sees it's even more useful to pay attention to her core muscles, which Natasha has helped her with some very simple exercises that she has built into her routine that isn't even about movement, like a core postural hold before and after her sitting meditation.  More static poses, like standing Qi Gong, and paying attention to her sitting posture have become an integral part of her routine of well-being, out of necessity to calm her mind.
So learning western astrology in an embodied way the past three years with Link has helped Li-Lan see that her movement routine over the years has fit exactly her Gemini sensibility!  And that realization has lifted her own self-imposed pressure to conform to another person's or western society's portrayal of a movement routine, and to keep staying in touch to her own strengths. No wonder competitive sports never worked for her, nor a coach that would be at her side egging her on; no more Fire needed, thank you! (there is plenty of that Element in both her Chinese and Western astrology charts)!
See how fun, useful, and empowering astrology can be?!
So what works for Li-Lan to keep her motivated in paying attention to her body:
it's gotta feel good to the body, mind, and emotions
no pressure, do it with ease, no or minimal props required
slow and consistent
have a wide variety to choose from
get serious when needed and there is personal accountability (grounding the Air with Earth)
make time to get out of the daily routine (this seems contradictory, but that's the two faced twin.  She is most likely to be in conscious movement at random times and places like the airport, when on vacation, when sick, when in line, when washing the dishes, together with a business conversation with an Armonia Health practitioner, when at the river impromptu after a day of seeing clients)
Reach out to Natasha for an individual movement class on Sunday, join her monthly Strength Training club on zoom, reach out to her with questions or get to know her!
Did this article perk your interest in how to apply Astrology into your every day life?   Join our monthly in-person Astro Dream Support Circle or contact Link for an individual astrology reading or private Qi Gong instruction.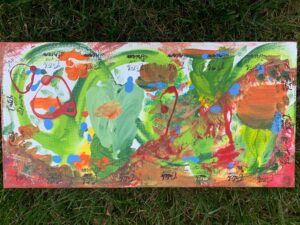 "Catch your Dreams"  Collaborative painting facilitated by Judith Winston LMBT during her Creativity through the Polarity Elements workshop spring 2023