Spirit Energy Healer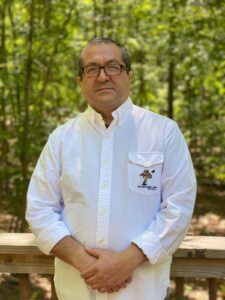 Oswaldo Mora is born in Ecuador in 1969 and was initiated in Andean Shamanism in 1998 and Hawaiian Shamanism in 2006, he has devoted half of his life to understanding, studying, and practicing various ways of re-structuring the mental patterns that every human being believes as an absolute truth.  This information is likely needed to be redesigned and updated based on modern needs.  Oswaldo has developed, based on Hawaiian Shamanism, various methods to achieve foundational balance of the Mind and Consciousness, thus creating harmony in the emotional and physical realm of a person.
Since August 2020, Oswaldo has started offering Spirit Energy Healing sessions at Armonia Health LLC, these are sessions that include spiritual coaching based on each person's individual belief; sessions are generally lying down clothed.  In his sessions, he releases lower frequencies that are contributing to the manifestation of adverse patterns (energy blockages), thus allowing the person's higher frequencies to have more space to take hold.
He is occasionally accompanied by Li-Lan Hsiang Weiss during the session, Lilan may be holding space energetically through her Qi Gong awareness, with acupuncture, and assisting him.
Oswaldo is a Unity of Peace Minister and has been learning and practicing New Thought and Unity Principles for many years.  Though he mostly works with people of Christian faith or background, the principles he shares can be universally applied by people of all faiths.
If you'd like a consultation with Oswaldo before making an appointment, contact him at 919-923-6447