Acupuncturist/Founder
Li-Lan Hsiang Weiss Founder of Armonia Health LLC, Licensed Acupuncturist, abdominal bodywork practitioner and instructor, energy healer, and Chinese herbalist.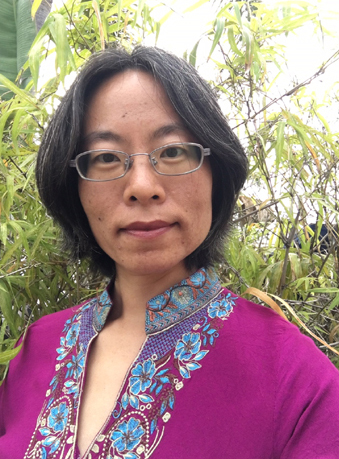 Founder and steward of Armonía Health LLC, Li-Lan Hsiang Weiss received her AB from Duke University (1996-2000) in Durham, NC and a Master of Science in Oriental Medicine from Southwest Acupuncture College (2002-2005) in Santa Fe, New Mexico. Her family roots are from Taiwan and she grew up in Nicaragua, Guatemala, and Honduras.
Li-Lan is a licensed acupuncturist in North Carolina (NC #355) with a Diplomate in Oriental Medicine from the National Certification Commission on Acupuncture and Oriental Medicine (NCCAOM). She has been in private practice in Durham since 2005.
Her master's degree training in oriental medicine included close to 3,000 hours (of which over 1,000 were clinical hours) of courses in Traditional Chinese Medicine (TCM) and Japanese-style acupuncture, Chinese herbal medicine, Oriental physical therapy, nutrition, Tai Chi, Qi Gong, anatomy and physiology.
Following her master's degree, Li-Lan received advanced training in the following areas of oriental medicine:  Dr. Tan's Balance Method, traditional Japanese acupuncture with Koei Kuwahara, enhancing fertility with Chinese herbal formulas and acupuncture with Bob Flaws, Jane Lyttleton, Wendy Yu & Brandon Horn, Chinese medicine classics and cultivation practices with Daoist Master Jeffrey Yuen, herbal alternatives to drugs with John Chen, classical Chinese female health practices with Dr. Lia Andrews, Yuan Qi technique for treating pain with Suzanne Robidoux.
In 2008, Li-Lan started her immersion in the Arvigo Techniques of Maya Abdominal Therapy® with taking the Level 1 Self Care course, which sparked her interest  in offering this therapy to her clients.  That same year she took the Level 2 Professional Training, followed Certification Training, Maya Spiritual Healing Level 1 and 2, Advanced Preconception, Pregnancy, and Postpartum Care, and in 2013 she became a certified Arvigo Institute instructor of the one day Hands on Health the Maya Way and 2.5 day Level 1 Self Care course.  Li-Lan incorporates the Arvigo® Techniques into most of her individual treatments, particularly those that involve fertility enhancements, hormonal balance, urinary incontinence, chronic prostate enlargement, and digestive complaints.   Li-Lan studied directly with Dr. Rosita Arvigo from 2008-2014 and is an active participant in the Arvigo® practitioners' community, being the Southeast Regional practitioner's coordinator from 2013-2016.   She also teaches the Arvigo® courses in Spanish.
Li-Lan's focus on the abdomen has led her to study functional nutrition with Andrea Nakayama of Functional Nutrition Lab (formerly Holistic Nutrition Lab/Replenish PDX).  Understanding the body from a functional perspective is a great bridge for combining the Eastern and Western models of understanding the body and an easy way to educate clients due to its grounding in the western sciences.
Since starting her private practice, Li-Lan has deepened in her understanding of Qi/Universal Life Force/Prana/Chu'el, the basic premise of understanding acupuncture and energy healing.  This has led to studying Reiki with Sharon "Moksha" Kolman in the Usui Shiki Ryoho tradition, Mayan Spiritual Healing as taught to Dr. Rosita Arvigo by Mayan Shaman Don Elijio Panti, and Womb Healing with Reiki Master and female empowerment author Miranda Gray.  Li-Lan has been practicing Tai chi and Qi Gong since 1992, first shown to her by her father, then with Nina Maeir from 2006-2014, where she focused specifically on the 18 Luohan for the Enlightened Being, a form of moving Qi Gong attributed to Bodhidharma, who brought Buddhism from India to China.
Li-Lan teaches acupressure and Chinese Five Element embodiment & Qi gong courses with her composer/musician husband Alex Weiss as well as other collaborators.  Tones for your Bones , on Facebook and under the Workshops page of this website, demystifies the Five Elements/Paths of Chinese medicine and teaches the practical uses of this philosophy, using live music, guided meditation, and reflections as a gateway.
With the expansion of Armonía Health LLC in 2017, her focus became making acupuncture affordable for more people through the community acupuncture model and integrating Spanish speaking bilingual practitioners into an integrative practice.  Four acupuncturists practiced in the community acupuncture clinic and offered over 4,400 acupuncture sessions from January 2017-March 2020.
As of spring 2020, Armonia Health LLC has pivoted to provide only individual sessions due to the worldwide Covid-19 situation and has closed the community acupuncture clinic.  As of fall 2020, Li-Lan has initiated a collaborative approach that provides accessibly-priced sessions by treating together with the independent practitioners in the practice which have resulted in quicker results than what one practitioner can provide as well as allowed practitioners to support one another.  Contact her to have a conversation/consultation of this model, she offers combo sessions for pain and stress management as well as Elemental sessions.  Look for continued virtual courses, joint sessions, and small in-person courses in 2021 with continued protocols that have allowed the clinic to see clients thus far amidst the pandemic.
Li-Lan is fluent in Spanish, English, and Mandarin and enjoys working with patients from different backgrounds. Her goal is to provide compassionate service to others and to facilitate each person's unique path to healing on various planes:  physical, emotional, mental, spiritual.  She enjoys creative dancing, Qi gong, mindfulness meditation practice, gardening, playing music with her husband Alex Weiss, and when possible with his Afro/Latin ensemble Different Drum, traveling (external travel on hold for the time being), and continued deepening in her Heart-Centered spiritual path.  2020 has actually allowed her to deepen in all these things that she LOVES!
Check out these free resources that share what she brings forth on the soul level:
Tones for your Bones YouTube channel

Embodying Yin in Action Webinar series
Earth Path in Chinese medicine: Digesting the Universe. 
Interview by Heidi Kirby of the Secrets to a Health Lifestyle Summit August 2021
Brodie Welch of "A Healthy Curiosity" interviews Li-Lan Hsiang Weiss, both are licensed acupuncturists passionate about self care strategies. Li-Lan speaks on the intersection of Chinese medicine and Mayan medicine, emotional healing and Mayan spirituality, self care abdominal massage, pelvic steams, and Li-Lan's personal stories of how the Arvigo®Techniques of Maya Abdominal Therapy have helped her personally and professionally. Approx 30 minutes
Recent Testimonials on acupuncture, abdominal massage, Tones for your Bones and more…
8/5/21 How Cool Is That?
My initial encounter with Li-Lan was many years ago. I had hurt my back and was in severe pain. My family physician had given me muscle relaxers and pain meds which I could not take. A friend set me up with an appointment with Li-Lan. I knew nothing about acupuncture, but at that point was ready to try anything. I shuffled into the office bent over and hurting. After helping me up on the table Li-Lan put a needle in the top of my head! There was an immediate electrical zip down the whole right side of my body and out my toes! I admit, the first time was a little scary. However, as I'm leaving the session I'm thinking…OK, this lady put a needle in my head and my back is better. I am much more upright, and my pain level has decreased considerably. How cool is that?!
Over the years the diversity of Li-Lan's knowledge, experience, strategies and techniques have proven themselves again and again. After having taken a round of antibiotics. I was trapped in the middle of the digestive issues that antibiotics cause me…Food in-food out. I explained the problem to Li-Lan and she said come on in. She performed a moxa something something. (I didn't catch the Chinese name). Afterward I asked her when should/could I eat and she said go home and have lunch. I did and things were fine . I'm thinking…OK this lady set fire to my belly button and no more diarrhea! How cool is that?!
I continued to see Li-Lan on a regular basis for many years. Then came cancer and I thought how lucky I was to have the connection with her to help me through this. But Covid came almost immediately during my treatment, and she had to stop in-person visits. I was very lost and alone. Then came Li-lan's zoom sessions and self-help classes…"Tones for your Bones". I was once again tethered to this amazing woman. I'm thinking…OK this person has spent an enormous amount of time and energy to see that we can still find value in our lives. How cool is that?!
After 12 years of sessions with Li-Lan I can truthfully say I have learned more than I would have dreamed possible. I have expanded my thinking and grown in every dimension. The song of my life is filled with Li-Lan melodies. I leave every session knowing that I have benefited…mentally, spiritually and physically. How cool is that?!
01/2021 – 6/2021 Google Testimonial from Lindsay Parker
January 2021:  I began seeing Li-Lan to treat my chronic pain:  my headaches and migraines had gotten so bad that about 70% of my waking hours were spent in pain.  At just 38 years old, I was teetering on the edge of a very dark place because I couldn't find enough escape from the pain to fully participate in life any more.  I'd been working with exceptionally high-achieving doctors at Duke Health, but their pharmaceutical interventions led to me having a stroke (at 38!) and then experiencing worsening pain with limited options.  A trusted friend (who is also a doctor) recommended Li-Lan.
I came to Li-Lan with an open mind for however she chose to practice her healing arts, and it's a good thing I did.  During our first Acupuncture session, I don't think she even got out her needles; her approach was much more subtle and energy-based.  On my drive home from that session, a battle raged in my mind:  on one side, I imagined all the condescending lectures I'd get from some of my closest family members if I told them straight-up that my session involved my practitioner burning herbs and singing.  On the other side, I had a strong intention to trust Li-Lan.  So I kept going, with appointments every 2-3 weeks.
It's now June 2021.  I'm in pain about 30% of the time.  It's been a gradual but perceptible decrease, and my quality of life has been recovering markedly.  Most of my sessions now do involve needles, inserted and removed so deftly that I rarely feel them.  Moreover, Li-Lan coaches me on being attentive to the subtlest sensations in my physical body and recognizing pattens in my emotional experience.  At certain points in my journey, she has recommended seeing other practitioners at Armonia who specialize in different modalities.  I have followed her recommendations, each of which seemed to come at the right time, and have had good experiences with everyone.  I have also participated in 2 "Tones for your Bones" workshops, Water and Earth, which have taught me qi gong and self-acupressure techniques that I can practice in between Acu sessions to take more ownership over my own healing process.  I am also taking one herbal supplement each day.
My journey with Li-Lan and Armonia isn't over, and I hope that my pain levels continue to decrease as we further develop my toolbox of self-understanding and self-care.  If you have not met Li-Lan, I recommend – while always staying attuned to your own sense of self and discernment – approaching the relationship with hope and an open mind.  While her methods may be considered "non-traditional" by today's American societal standards, her technique is much more deeply rooted in traditions that truly matter:  compassion; open-heartedness; and the ultimate generosity of dedicating time and energy to focusing on you and your healing.
11/22/20 For several years, I dealt with sleep challenges. After being referred to Li-Lan by a friend nearly two years ago, I have come to Armonia Health consistently. The treatments I have received have truly been life-changing, and have led me to trust Li-Lan and her team with even the most significant of my health needs. In the last year, I have dealt with significant, recurring gut issues. I have sought guidance and clarity from allopathic medical practitioners, but have not had much success. I turned to Li-Lan and Armonia Health LLC to gain some insights from Chinese medicine via a virtual consult, and I'm so very grateful that I did! Li-Lan took her time, listened actively and attentively, and through that process, helped me to understand the ways in which my emotional realities were contributing to my physical state. I was not previously aware of this interconnectedness, and it felt like a lightbulb came on! Furthermore, Li-Lan offered me clarity around what my body is going through, and strategies to navigate it, by introducing me to the Five Elements. I was also grateful that additional resources that will help me learn more, and that will help me navigate my health journey, are available on the web through Armonia's website.   Angela T. 30 years old
12/15/20 I normally only get the chance twice a year during a retreat with my fellow Qigong practitioners to receive the level of care and attention that Li-Lan has provided at Armonia Health. Beyond the Japanese-Style Acupuncture, Li-Lan has a way of touching the deepest needs of each client that enters her space. "I want to treat all my clients like my children", she remarked to me over hot tea as she helped me integrate the healing session. I have met many people who follow and discuss the Buddhist teachings of compassion, that we have all been each other's mother at one point and should treat each other as the dearest of friends. Rare has it been that I've seen it put into practice. I myself am aware of how short I fall to that lofty ideal each day, but Li-Lan continues to inspire me with her life's work that it is indeed possible. Moving at the pace of the body, Li-Lan shares deeply from the heart all the teachings which she has put into practice so skillfully. I would say I am forever in her debt, but it would not be true as there is no debt or expectation beyond what is asked. Instead I feel moved to carry the flame of heartfelt touch, and the way of Yin; to embrace gentleness and turn the world toward Kindness each day. Thank you Li-Lan,  Arthur Freeman LMBT
12/22/20 "Li-Lan is my primary healer of choice, period! She is thoughtful, compassionate, culturally responsive to me as a Black woman, and profoundly effective at what she does. After receiving acupuncture from Li-Lan, I often leave feeling serene, calm, strong, and as if I have had an adventurous dream! I can share any concern or condition with Li-Lan, from allergies and insomnia to grief and insecurity, and she will locate the source of the dis-ease/un-ease.  It is also worthy of note, that over the years Li-Lan has become a trusted practitioner for other members of my family and community. Her caring techniques, which beautifully embrace community members with love, marry gracefully with western medicine. I absolutely look forward to continuing to receive care and "tune-ups" with Li-Lan for as long as I am able! ~Michelle Lanier, Folklorist and Educator.
12/22/20  Life is an amazing journey, by getting to know people like Li-Lan. What she's done for me was amazing within itself, then noticing her professionalism, competence, morality, along with her holistic conversations, makes her very special.
Allow me to explain, exactly, why I feel the way I do about her.
I was diagnosed with diabetes at the age of eleven, I met Li Lan at age fifty six. 42 years of type one diabetes caused me kidney disease, and dialysis. Fortunately, I received a double transplant, at Duke, on 12/1/2016, for a kidney and pancreas.  Two consecutive years later, I was hospitalized for bowel blockages, which came from my transplant, and from the blockages came abdominal distensions. Three consecutive years, three consecutive surgeries on my abdomen. The size of my abdomen was overwhelming, mostly because I've always been athletically fit, so in my later years I continued exercising and always ate balanced, nutritious meals, because I cooked them myself. My motto is,  it has to be delicious and nutritious.
My abdominal distensions was so upsetting,  my doctor referred me to see the transplant psychiatrist, which I did. The psychiatrist understood why I was upset and scheduled a meeting with my surgeons. Both surgeons, confirmed, there wasn't anything they could do about it. Although, they said there wasn't anything they could do, I knew something can be done, so I began researching.
I finally found a nearby Arvigo Massage Therapist, because the closest ones I found previously was in NY and Florida. Li Lan Hsiang Weiss, was her name.  After I read a couple of her blogs, I knew she was the one.  The results were just as I visualized in my mind. I saw Li Lan, consistently, for about 6 months this year, mostly twice weekly.  What I didn't imagine was what a competent therapist Li-Lan is, she helped achieve the results I wanted and also knew what I needed.
She's AMAZING and LIFE IS AN AMAZING JOURNEY, thanks to people like Li Lan!!  Words can't express my appreciation to her, so I'll wish her the best in all of her future endeavors.
Sincerely, Bickett Fort.
1/13/21
Many years ago, my appendix ruptured and I had peritonitis. I was told that I should be vigilant to look for signs and symptoms of abdominal adhesions. Sure enough, since then I have had related issues including surgical repair of an umbilical hernia, hospitalization for a partial small bowel obstruction, and removal of my gallbladder. While I appreciated the treatment provided by my traditional health care providers, I felt that something was missing – I wasn't given any advice about practical preventive care that might prevent acute medical issues from cropping up. I did some research and discovered that Li-Lan has expertise in treatment of abdominal issues. I made my first appointment with Li-Lan more than six years ago, and I have greatly benefited from her advice and treatment since then. I can't begin to tell you what a vast improvement my health has undergone. Li-Lan combines acupuncture, herbal remedies, and abdominal massage techniques with her vast knowledge and understanding of the whole person, including physical, mental, emotional, and spiritual aspects.
Li-Lan is very intuitive and insightful, and her treatment of me has evolved beyond my abdominal issues. I am an attorney who works in the courtroom under stressful conditions. Li-Lan has given me insight into practical ways to minimize stress and maximize my energy level during lengthy trials. I have been able to enjoy excellent health by having regular "tune-ups" with Li-Lan. I consider Li-Lan to be a spiritual adviser as well as a practitioner who treats the physical body. I feel very fortunate that I found Li-Lan when I did. I wish I had discovered her years ago. She has become such an important, essential presence in my life. I have recommended her to many friends and acquaintances, and it makes me feel good to know that I can help others simply by recommending her to folks who will benefit from her care and help.
CB, Durham, NC