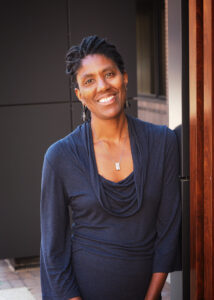 Nicole is delighted and honored to join the community of gifted and compassionate practitioners at Armonia Health. 
Nicole's path and politics have been informed by being the daughter of two social workers and the granddaughter of a labor organizer.  Nicole believes deeply in the dignity of all people and all labor and the right that we all have to live in conditions that provide the resources and support we need to feel well and connected. 
Nicole grew up in Cleveland, Ohio, and started her ongoing journey in the health and healing professions by completing medical school at the University of Maryland (2000). She continued her training to become a family physician at UC Davis Medical Center in Sacramento, California (2003) 
She has always been drawn to more holistic approaches to care, which led her to pursue additional training in medical acupuncture through the Helms Medical Institute/UCLA program while still a medical resident.  Following residency, she spent time working in various sites around the Mountain West (North and South Dakota, Montana, and New Mexico) and providing medical acupuncture to people in Billings, Montana.
She decided to pursue additional training in Clinical Research to conduct studies to demonstrate the effectiveness of Integrative approaches to care and, hence, support the more widespread adoption of Integrative Medicine.  During her research training,  she studied Mindfulness Meditation, wrote a well-cited review article, and conducted research that showed that a meditation program was equally effective to medication in treating chronic insomnia.  
An economic downturn that limited research funding and a desire to return to more direct patient care led Nicole to take a position in a well-respected Minneapolis community health center. Here, she spent several years working as a primary care physician and coordinating programming for community health and provider wellness.  
The demands of hurried clinical care and seeing patients every 15 minutes took their toll, and Nicole developed several chronic health conditions.  In the process of pursuing her own holistic healing path, Nicole rekindled her passion and vision for a more holistic way of working with people.  She pursued training in Functional Medicine and became a Certified Practitioner through the Institute for Functional Medicine, and continued her studies of Integrative and Holistic Medicine.  
The COVID pandemic deepened her awareness of the importance of physical connection, touch, and working with our emotions for sustained healing. These realizations led her to augment her practice with more hands-on and energetic approaches, including Craniosacral therapy and energy psychology.
Nicole envisions her role and continued work as a bridge between Western bio-medicine and the integration of energetic and functional approaches. She sees her work as that of a collaborator.  She accompanies individuals on their unique healing path, offering suggestions from her experience and training and providing support, deep listening, and accountability.  She is committed to learning new ways of seeing and perceiving and unlearning the paradigms that can keep us in mind-body disconnection. 
She is offering at Armonia Health LLC consultations and treatment in Functional Medicine and Medical Acupuncture, and weaves Energy Psychology and Craniosacral therapy into her offerings. 
You can learn more about her practice and contact her to request a consultation or in-person session at sankofahealingarts.com.