Relationship Coach &
Team
Development Consultant  M.A.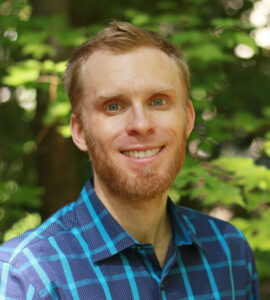 Benjamin is founder of Navigate Change, LLC, and Organizer of the AuthenticNC (Durham T-Group) and Alchemical Dreamers' Guild Meetups. Fascinated by questions about how people transform and build satisfying, richly connected lives, he has been a meditator and explorer of depth psychology for over 20 years.
Benji works with people seeking more connection in their lives, supporting hundreds of people each year to build more satisfying relationships with themselves and others. In addition to 1-on-1 coaching, he offers over 100 group experiences, trainings and retreats per year in the Raleigh-Durham area through 4 plus communities he helps organize.
A former Peace Corps volunteer in Guatemala, Benji speaks Spanish, Portuguese and Kaqchikel Mayan. He holds a Masters of Transpersonal Counseling Psychology from Naropa University (2014). A graduate of the Comprehensive Training of the Matrix Leadership Institute, he also completed Certification in the relational meditation practice of Integral Circling from the Integral Center in Boulder, Colorado. Benji has 11 years of experience working 1-on-1 and in groups with sleep, dreams, and relational practices, including specialized training in Men's Tantra and Sensorimotor Psychotherapy, which focuses on the processing of traumatic experiences and fight-flight-or-freeze states.
He is currently studying organizational development at North Carolina State University's Jenkins MBA Program. Benji aspires to support visionary organizations such as Armonía Health LLC to expand their reach, while building community along the way! 
Benji has been hosting and facilitating weekly T-Group Relational Meditation events at Armonía since March 2022 and its community has grown into a vibrant event of authentic connection.   You can experience the practice and join him on Sundays from 5-8 pm using the links below.
Meetups:
AuthenticNC: Authentic Relating & Weekly Group  Meditations https://www.meetup.com/ancevents/
Alchemical Dreamers' Guild   https://www.meetup.com/alchemical-dreamers-guild/
If you don't have a Meetup account, register for T-Group using Eventbrite or reach out to Benji by phone to (303) 847-5263 to RSVP with cash payment at the door:
https://www.eventbrite.com/e/t-group-relational-meditation-get-past-small-talk-meet-inspiring-people-tickets-494223183847
Learn more about Benji's personal story and upcoming events at NavigateChange.Org