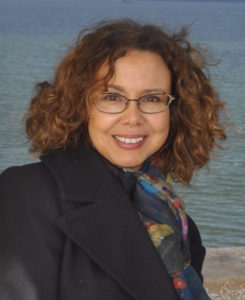 I am originally from Mexico and moved to the Raleigh-Durham area in 1989. I am fluent in Spanish and have a Master's degree in Liberal Studies from Duke University with a focus on Psychology and Cultural Anthropology.
In 2011, I received my certification as a Second Degree practitioner in the Usui System. My study of Reiki stemmed from a six month trip to India where I became interested in the ancient healing tradition of Shamanism. Upon my return, I decided to receive Shamanism training from different teachers.  It was during a training with shamanism teacher Sandra Ingerman that I discovered the Japanese healing art of Reiki.  After my certification, I started to practice Reiki with friends and family both in North Carolina and Mexico. In addition to in-person full body healing, my Second Degree certification allows me to provide remote healing. Over time, I have also learned to mix techniques from both Shamanism and Reiki during my healing sessions with clients.
Reiki is a wonderful therapy that helps reduce stress and obtain a deeper sense of relaxation. Making clients feel more in tune with their body and wellbeing.
In 2013, I received my certification as a Co-Active Coach from the Coaches Training Institute (CTI). I am also a member of the International Coaching Federation (ICF) Raleigh area chapter. As a member of ICF, I am actively participating as a Client Liaison for their Community Outreach Program and as a Cutting Edge Conversation (CEC) organizational leader bringing together coaches in the Durham/Chapel Hill Area.
As a coach I don't give answers, instead, I work in partnership with my clients and support them in finding their own answers and their own power. I work mainly with women going through divorce or through difficult transitions in their lives. I create a safe space for them and help them clarify their priorities and focus on what is important. In that way they can create a realistic vision of their future and develop a plan to get there.
In my experience I have realized that blending Reiki and Coaching provides a whole-person focus that facilitates a sense of balance and brings the needed energy to bring about transformation.
I am also a Certified Mediator and Facilitator with over sixteen years of experience working in the court system, schools and community. I have experience in engaging with individuals in interactions leading to conflict resolution and to the strengthening of their relationship. I am a multicultural, bilingual professional able to easily establish rapport with diverse populations.
My appointment times at Armonía Health LLC are on Wednesdays 10:00-6:30 pm, Fridays 9:00-6:00 pm, 2nd Saturdays of each month 8:00-4:00 pm or by arranged appointment time.  You can schedule your appointment by calling Armonía Health LLC at (919) 251-9698 or through our online scheduling.  Raquel offers a complimentary 30 minute Discovery Coaching phone conversation to see if her coaching services are a right fit for you.  Visit our page on Co-Active Coaching for more information.
I completed my Reiki Master training in 2017 and currently teach Reiki 1 courses in Spanish and English at Armonía Health LLC, Reiki 2 classes will be taught in the fall of 2018.