2023 in-person & Zoom Events
T-Group Relational Meditation
Looking for more connection? More satisfying relationships? This weekly T-Group relational meditation focuses on exactly these areas, to help you build meaningful relationships and feel more connected to yourself and to those around you.  This practice meets Sundays from 5-8 pm. Visit Benji's page under About Us to register for his events.
Elements for the Creative Heart
Join artist, polarity therapy practitioner, bodyworker, and business owner Judith for a creative exploration with Polarity Therapy's Elements.  From Ether's potential through Earth's completion, they provide gifts and qualities to help us find our way through life, and manifest our most desired dreams.  The elements of Ether, Air, Fire, Water, and Earth tap into a matrix of resources through our physical, mental, emotional and energetic bodies that our conscious use of can bring about dramatic results.  Through their study and creative play-making, we will tap into a wellspring of wisdom to deepen, broaden and heighten the quality of our lives in a very intentional way.  Meets 3rd Saturday February-May.  Register through our widget.  Space is limited to 6 participants.
Heart-Centered Creative Entrepreneurs' Support Circle
Join in a supportive and learning circle with those passionate about sharing and serving the community.   We meet monthly on the second Saturday of the month from 10 am-12 noon.  Register through our widget

Monthly Strength Club with Natasha –  meets over Zoom
Last Sunday of the month in English, 1st Sunday of the month in Spanish 10-11 am.  Contact Natasha to register.
Ear acupuncture with Li-Lan & Vocal Sound bath with Shana Adams
Experience ear acupuncture while resting with the angelic voice and crystal bowls of Shana.  Each gathering is unique and may be accompanied by guided visualizations and group participation.  Bring your notebook to record your insights and experience.  Contact Li-Lan to request a private group session.
Healing Meditation with Oswaldo Mora
Experience your Divine presence through your Heart. Oswaldo, a spiritual coach who has been initiated in Andean shamanism of his native Ecuador as well as Hawaiian shamanism, will lead a small group in meditation and create a safe container for healing intentions.  Visit the widget for information on this offering or contact him.
Mandala of the Enlightened Feminine with Ellen "Yeshe"
In this workshop … through color, light, sound and visualization… we will explore how our human emotions are the very seeds for our own transformation and enlightenment.
The mandala of the Five Wisdom Dakinis creates a sacred geography within the psyche leading toward the realization of the innate perfection of the world. The mandala is a blueprint for sacred reality on every level. Ritually, aesthetically, and symbolically it expresses the inherent purity of all existence, and embodiment as a path to liberation. Through the mandala, the psyche is provided with a container and structure for transformation and architecture of enlightened experience.  Ellen Booth Church is a Vajrayana Buddhist practitioner and authorized teacher with Tara Mandala for over 30 years.   Contact Li-Lan to request teachings with Ellen.
Online Workshops/Previous Recordings
Tones for your Bones with Li-Lan Hsiang Weiss & Alex Weiss
Tones for your Bones is a reflective live musical experience incorporating Chinese Five Element/Path meditations, Qi gong, acupressure, and reflections.  Created by Li-Lan Hsiang Weiss L.Ac. and multi-instrumentalist Alex Weiss, in 2021, the Qi Gong portion is taught by Arthur "Link" Freeman LMBT.
This workshop is for those interested in meditation, self-awareness, mindfulness practices, reflective music, creative movement, grounding rituals to honor Nature, and creativity.  It is also a great way to learn and deepen in one's connection to the Elements/Paths in a fun and embodied way. Workshops may incorporate journaling, drawing, and group sharing to integrate the experience.
Past workshops since 2016 have been in dance and yoga studios in Bisbee & Flagstaff, AZ; Santa Fe, NM; Connecticut, at Health Touch NC LLC, Oasis Cafe, and Watersong PeaceChamber in the Durham, NC area and Colima, Mexico.  Several 30 minute pieces were presented for Nasher Art Museum's Matterings of the Mind exhibit June 2017.  Tones for your Bones was offered seasonally before 2020 and virtually from 2020-2021
You can subscribe to Tones for your Bones YouTube Channel for Qi Gong with Li-Lan, music videos with Alex & Li-Lan, Five Element playlists, and Live practices.  Follow their Facebook for workshop details, updates and fun posts.
All past online workshops, reflection v-logs on the Five Elements/Paths, world music playlist, and practice videos are available on the Tones for your Bones YouTube channel.
Embodying Yin in  Action –
A series of free webinars inspired by Spiritual Luminaries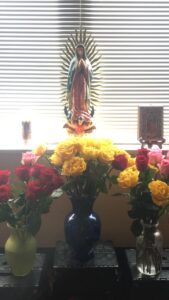 12/12/20 Opened up the energies of Sacred Yin in Action with the Celebration of Our Lady of Guadalupe, also known as Tonanzin by the original inhabitants of Mexico.  Francis Rico shared a virtual cultural and historical talk of Her presence as well as the story of Tonanzin, two different and equally beautiful stories with messages relevant to our times, especially 2020 and beyond.  The talk was followed by a guided meditation with Li-Lan and Francis. Youtube 2022 webinar HERE.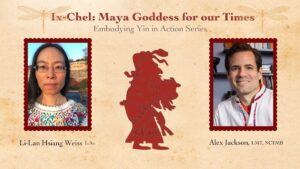 Ix-Chel: Maya Goddess for our Times with Li-Lan & Alex Jackson LMBT, both practitioners of Maya abdominal therapy Replay HERE
Finding and Embodying Ix-Chel through Nature TBA
Ix-chel Queen: The Heart of Transcendence TBA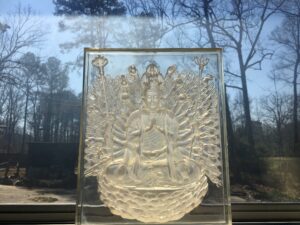 Honoring Guan Yin's Enlightenment Day
Join Li-Lan and Arthur "Link" Freeman for their stories on this much revered Enlightened Being of Compassion and Loving-kindness with the second half being a practice of the Rising Lotus Medical Qi Gong with Link.  Recording available Armonia Health Youtube Page HERE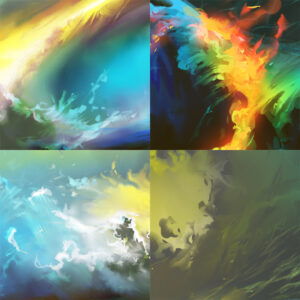 Philosophy of Massage: Flowing with the Elements 20 CE LMBT
A fundamental class in integrating all that we learn from personal experience and CE classes as massage therapists into a cohesive model to use that can be applied practically and enhance our intuition. Using the core elements of Fire, Water, Air and Earth, students will organize a better flow to enhance the massage experience. A deep dive into the underlying principles and frameworks that support a successful career and practice as a LMBT.
Philosophy of Massage offers a framework for a more intuitive way of working. Integrate all that you've learned on a foundational model that feels good for you and the client. In our profession with all our required CEs we can become overloaded with techniques and methods and massage styles with little time/space to reflect and piece together. Problem of lack of Flow during massage sessions, which is markedly different than a routine.
The Power of Initiation-What is missing from the West, what is missing from our Education and upbringing-to bring us into Full Alignment of who we are. In working with the elements in a personal way, we "initiate" a relationship with them which we can deepen over time.
In this class, you will learn how to:
Describe and Contrast the Philosophies of the Elemental Systems of China, Greece, Tibet, and Japan
Perform Breath-work and movement exercises to activate Elemental Energies
Analyze Clients through the lenses of Elemental theories to create more effective treatment plans and a balanced approach
Discuss how these Elemental Archetypes show up in your life, and reflect on which energies are your strength / growth areas\
Demonstrate a synthesis of elemental theories on a sample client
Virtual Elemental Playshop Segment from 10 am – 12 noon
Link is offering a new concept into the realms of self-awareness and healing. His upcoming "Elemental Playshop" is designed to cater to anyone with interest in growing in their relationship with these fundamental aspects of reality.
Your Chinese Astrology for the Yin Ox 2021
Join Healing Arts Professional and Spiritual Mentor Arthur "Link" Freeman LMBT for an experiential class designed to prepare you for the flux of energies in the upcoming year. We cannot control what happens in our lives or everything around us, but we can choose what we aim at! Use a map informed by the wisdom of Chinese Astrology to carefully plan your year in a way that flows well for YOU.
A common misconception is that Chinese Astrology is all about the "Animal Year Sign" when this gives even less information than a Sun Sign in Western! Each Animal is paired with a different Element which can be further divided into either Yang or Yin. We'll have a much deeper understanding of ourselves having looked at our charts in this way by the end of the session!
The class will involve a refresher for previous Bazi students and a basic overview for newcomers.  Bazi Chart is a system that can helps uncover your Life Potential by analyzing the blueprint of your personal birth data.  The 4 Pillars are composed of the year of birth, month, day, and hour. Each "pillar" holds two words, hence the 8 Characters (Ba).  The rest of the time will be used for exploring how the upcoming Chinese New Year will impact YOUR life. The energy will be unique to each person's chart, as most "astrology articles" on the internet giving a general prediction for the year can be difficult to apply to one's life.  You will learn to apply practical "cures" of better behaviors and supportive relationships in our lives. The "cure" to any imbalanced Bazi chart is ACTION (aka Move the Energy/Qi) and thus can be done through awareness and follow through.
Content will be above beginner level so please have a working understanding of how the 5 Elements of Chinese Thought interact with each other in Chinese Astrology by reading this blog post on the Armonia Health LLC website:  https://armoniahealth.com/2020/12/chinese-astrology-5-elements-and-ba-zi-charts/